Hello Mustangland! Due to some unforeseen issues with Skyward, online registration has not been opened in time for us to have onsite registration beginning tomorrow (8/2/23). Therefore, we have postponed onsite registration to begin Tuesday, 8/8/23. Please see the IHS website for more details. ihs.inglesideisd.org Thank you and sorry for any inconvenience. Dr. Edlin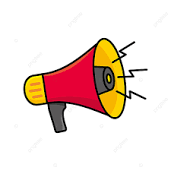 Hello Mustangland! It is very important that all accounts with the cafeteria are settled before the on-site registration process. Please see the attached flyer for information to ensure your child's account is settled!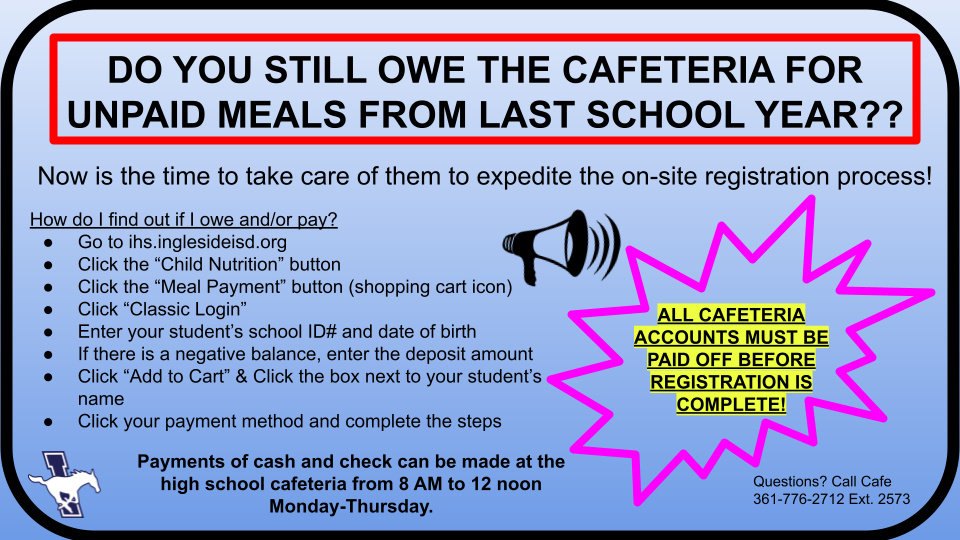 Hello Mustangland! Student on-site registration information has been posted to the IHS website at ihs.inglesideisd.org. Scroll down to the "News" section and click on the picture for links to important information!

ATTENTION MUSTANGLAND! Any SENIOR WHO GRADUATED THIS PAST MAY, we are offering one last opportunity to take the TSI at IHS! See the accompanying flier for details! This opportunity is also open to future Dual Credit students. There will be another opportunity 8/1/23.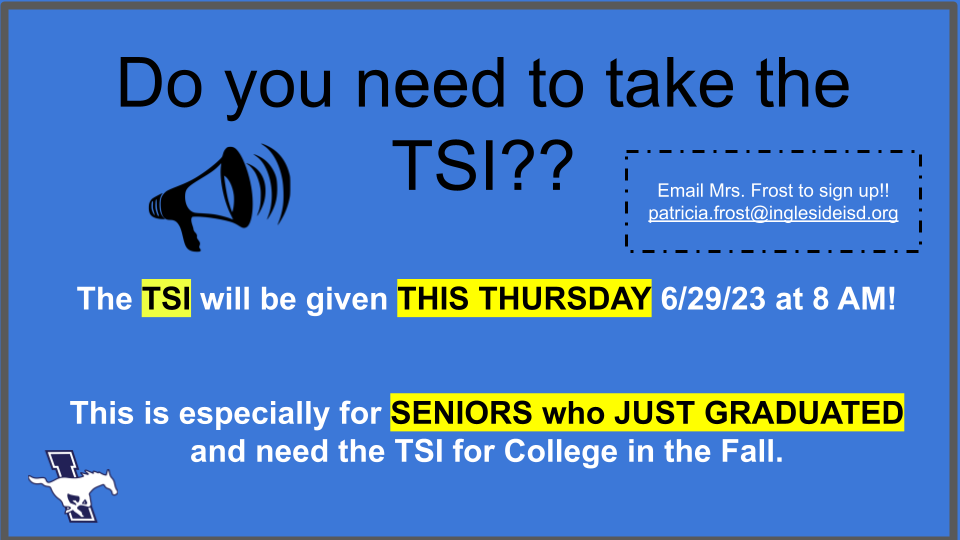 Attention Mustangland! Summer project Google Classroom codes and links for AP and Honors courses have been added to the HS website at ihs.inglesideisd.org under the "News" section. All summer projects are due Wednesday, August 16, 2023 (the 2nd day of school).

Good morning Mustangland! We are having technical difficulties with our phones this morning. Our tech dept. is aware and working on it. We apologize for any inconvenience and will let you know when they are up and running.
ATTENDANCE MATTERS: -Taking Dr. Edlin's parking spot? #Winning -Meal from Can I Get A Scoop Ingleside to eat in the cafeteria? #YesPlease -Also, Which student wants to win a PS-5!? 🎮 #NotYesButHECKYES Check out this awesome attendance incentive offered by CIS Ingleside ISD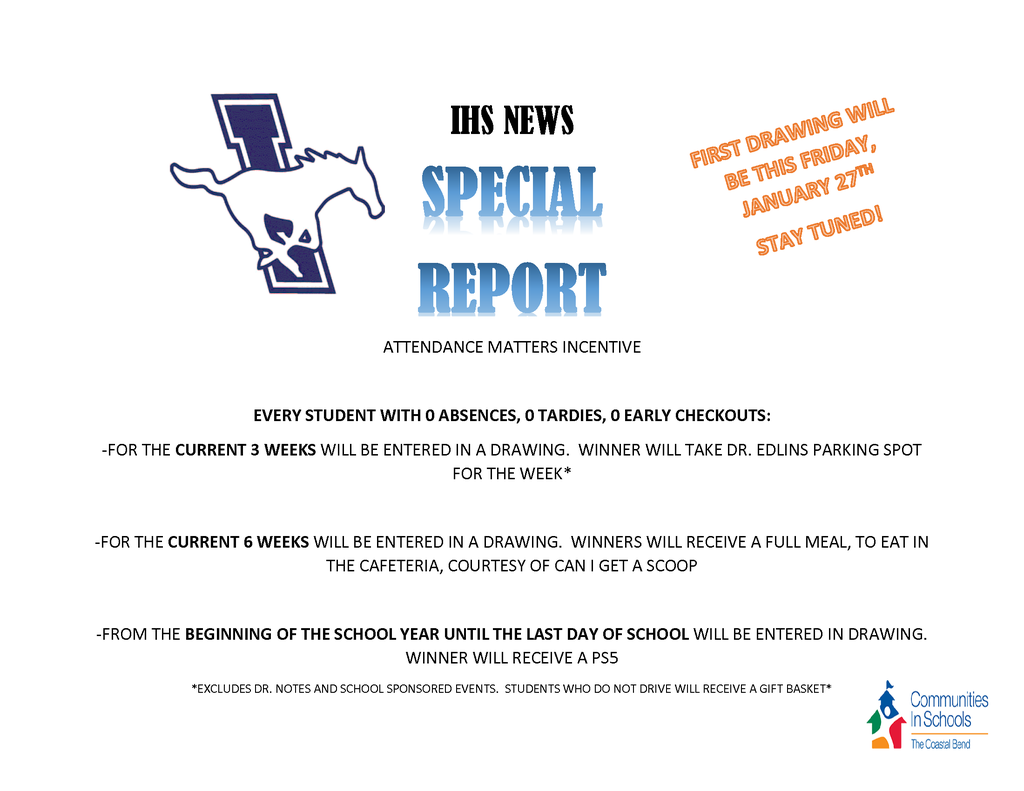 Great news Mustangland!! Our 2022 IHS Federal Report Card is now available for your viewing on our website, ihs.inglesideisd.org under the "Required Postings" button!! If you would like a hard copy, please contact our front office! Go Mustangs!
Congratulations to the 39 students in Mrs. Franco's Health Care class at Ingleside High School, who passed their National Certifications Exams for Electrocardiogram (EKG) and Patient Care Technicians (PCT). We are so proud of the future leaders in healthcare at IHS.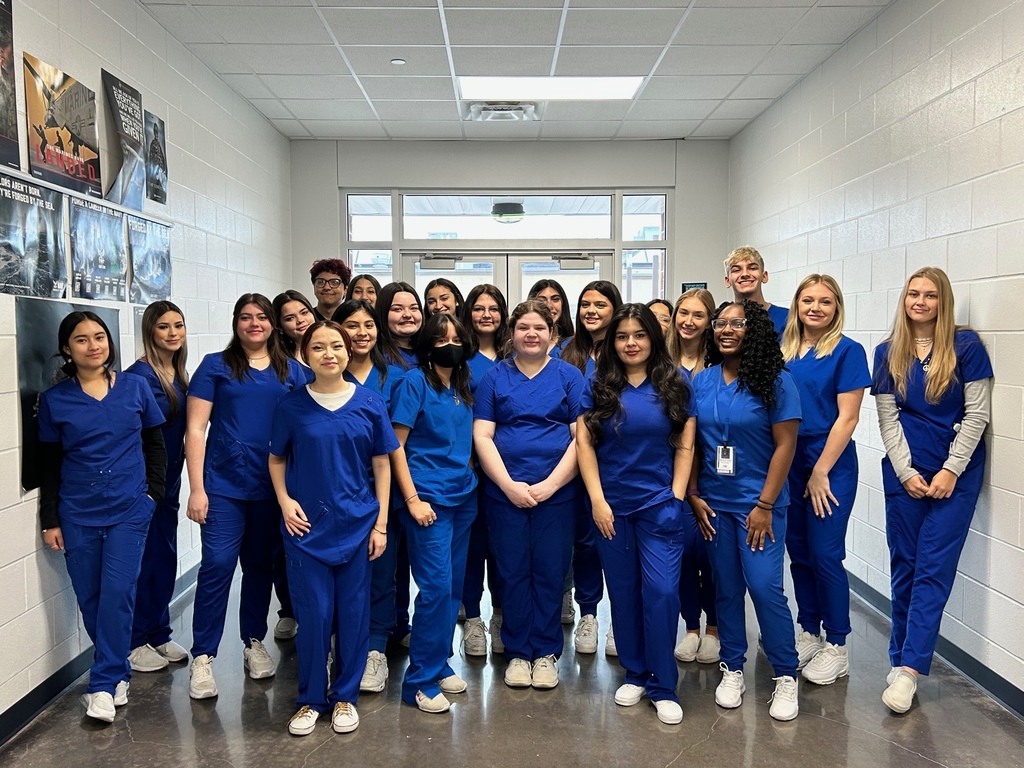 Hey there Mustangland! This is another friendly reminder to take the parent survey below if you have not done so already! We are in 2nd place behind IPS, please help us finish in first! It takes less than five minutes! Due by Tuesday!!
https://forms.gle/N5fUKngjtuuzNVkQA

Attention Mustangland Parents: If you have not filled out the district parent survey, please use the link below to do so now! The survey takes less than 5 minutes! If you have already filled it out, thank you!!!
https://forms.gle/N5fUKngjtuuzNVkQA
OUR FAMILY MATTERS: This year, Ingleside ISD has started an employee recognition program, the Family Matters Award. This award is designed to recognize IISD employees who are demonstrative of going above and beyond their normal job responsibilities to help a student, parent, volunteer, community member, or a fellow employee. This award is given each month to an employee that is selected by a committee who reviews each nomination. Our recipient for December is Nurse Shelley LaDuque of Ingleside High School. She was recognized during our School Board Meeting, where she was celebrated for her outstanding efforts. She was also awarded $100 from the Ingleside ISD Education Foundation. Below is an excerpt from the nomination that was submitted on her behalf: "It doesn't matter if Shelley is charting or fixing to take her lunch break, she sets everything aside without hesitation to care for students, and staff, even before herself. The staff as a whole will tell you that she's the best school nurse that supports the "whole" student—mentally and physically. Shelley also wears many hats at Ingleside High School, where she helps with the metal detectors in the morning and with lunch duty, to name just a few things she helps out with-which is in addition to taking care of the all students at the High School. She also takes a proactive approach in making campus decisions that support students. She can be checking someone's temperature one minute and then a short time later counseling a student on their family crisis. The range of care with the level of caring behind it that she provides is unmatched. Nurse Shelley is always going above and beyond her assigned duties. She is willing to help do anything on campus that the High School asks her to do. These are just a few things to give as examples, but because of Nurse Shelley, all of our students are healthier, stronger and all-around great students. " We encourage you that if you witness an employee who goes above and beyond and demonstrates actions or qualities that are worthy of celebrating, to tell their story and help us recognize them! The nomination form is located on our website under the 'About Us' section of the Menu. To learn more about the Family Matters Award, please click the following link:
https://forms.gle/vcd15YBti4mie5GK7
Way to go, Shelley! We are so glad you're part of the family at Ingleside ISD.
⭐️🥇EXCELLENCE IN COUNSELING: Ingleside High School Counselors, Patricia Frost and Bobby Hon, are being recognized by the Texas School Counselor Association as recipients of the Counselors Reinforcing Excellence In Students In Texas (CREST) Award. This award is an elite group of Counselors from across the state who exhibit Counseling Excellence that improves the lives and achievement of students in academic, career, and personal social domains. Congratulations Mrs. Frost and Mr. Hon! The CREST awards recognizes Ingleside High School for appropriately utilizing their Professional School Counselors and demonstrating a continuous commitment to building a campus team and programs based on the Texas Model for Comprehensive School Counseling Programs, endorsed by the Texas Education Agency (TEA). This means that IHS engages their Professional School Counselors to provide students with the classroom guidance, college and career readiness, and social/emotional skills needed to be academically successful and well-prepared for life. Professional School Counselors receiving the CREST award use data-driven results to show the effectiveness of their comprehensive guidance and counseling program.
The Ingleside ISD Parent Survey is open! Each year, the District gathers information to enhance current practices and gain feedback to make necessary changes to improve the overall experience of our school system for the students, staff and families of Ingleside ISD as well as the organization as a whole. Your feedback is critical and we value your willingness to share your responses with us. The survey is open now and must be completed no later than Tuesday, December 20th. It is estimated that the survey takes approximately five minutes to complete. To access the survey, please use the following URL link:
https://forms.gle/MLS5i2AGLvyzdFhA6
We thank you for entrusting your child with Ingleside ISD.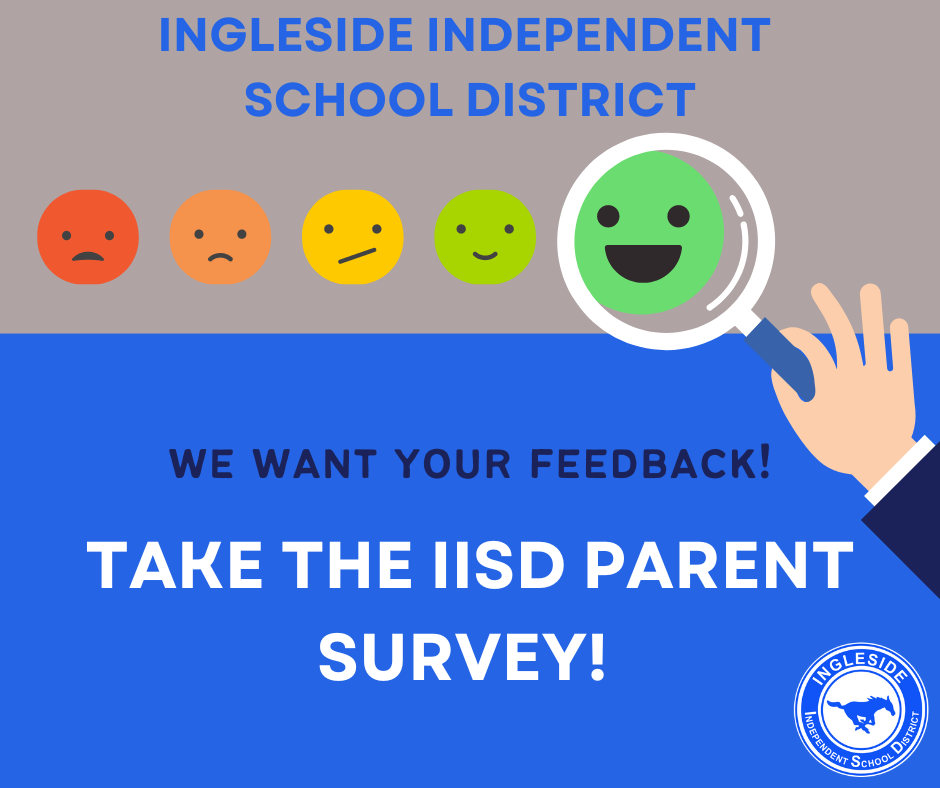 Join us this evening for the Youth Equipped to Succeed (YES) parent meeting at 5 PM. This meeting will give parents an idea of what students will have presented to them in December! Use this link for access!
https://meet.google.com/nih-htmw-mom

Attention Mustangland! Join us tomorrow for our first annual "Forge Your Future" CCMR Expo! We will have ALL branches of the military, several businesses, and several college/trade schools for you to talk to!! 6-8 PM in the cafeteria! See flyer for more details!
Due to possible inclement weather this evening, the football game will now start at 7:00 PM. See you there, Mustang fans! GO BIG BLUE!

Another Episode of Tuesday Takeaways with Dr. Edlin! Vol. 1 Ep. 5 - All about Skyward for Parents! Did you know you can receive automated emails about your student's grades?? Watch to find out more!!
https://bit.ly/TuesdayTakeaway5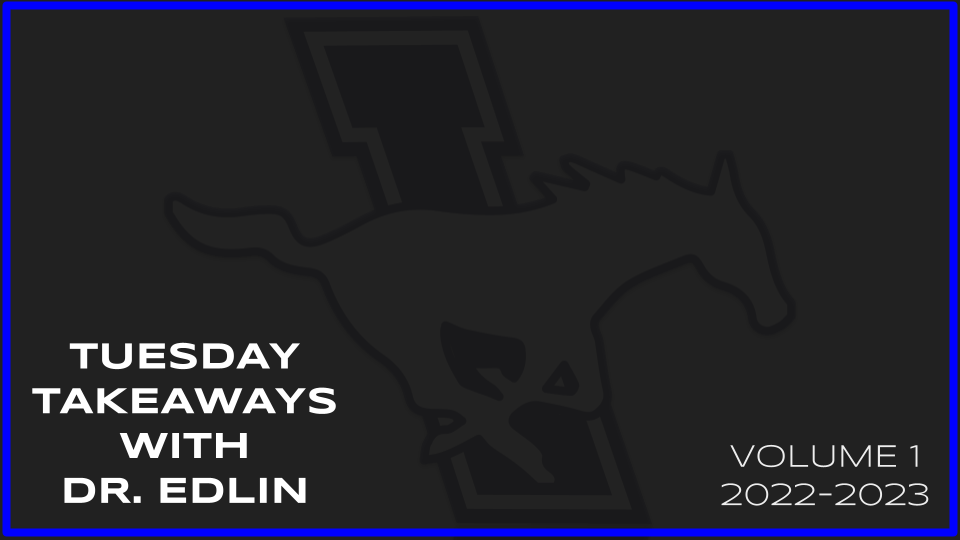 Attention Mustangland: Yearbook prices go up on October 1st (this Saturday)!! Make sure to get yours at the lowest price before then!
http://bit.ly/ihsyearbook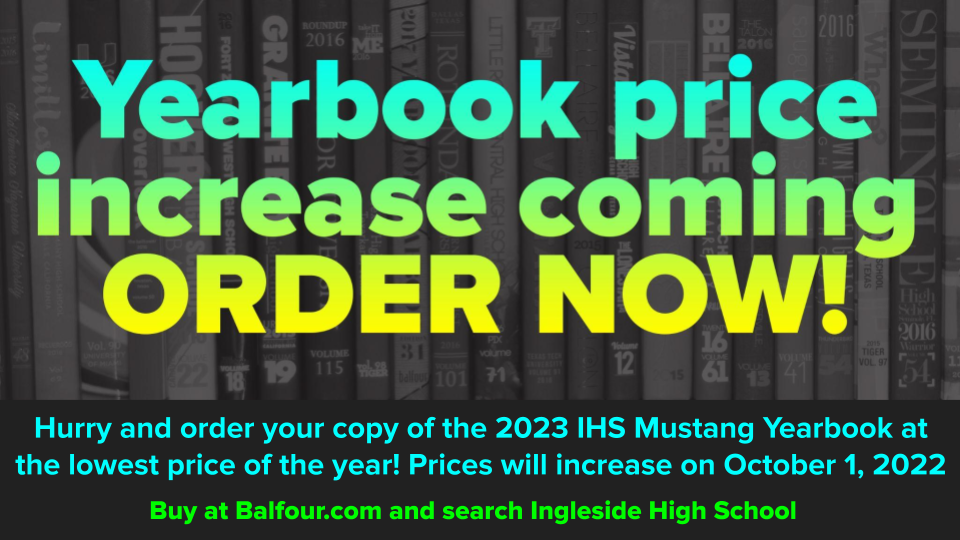 More pics and videos of our spectacular NJROTC students at competition today!